Brady
From Thetribe
Brady
Portrayed by [[Georgia Taylor-Woods
]]

[[Image:{{{Image}}}|200px|center]]

Brady has been played by:
Series 1: Beanie Palmer (newborn), Kiriana Chase (until the end)
Series 2: Story Rose and Eva Rose, Ariel Garland
Series 3 - Series 5: Georgia Taylor-Woods

Tribestyle
S1
For the beginning of her life Brady spends her time either wrapped in a stripy blanket for occasions such as meeting daddy Zoot for the one and only time or in a white baby grow with a brown hooded robe thing over it.
S2
On returning to the Mall, Trudy has a duplicate baby who mainly lives in a newer white baby outfit.
S3
Once the Chosen take over Brady is obviously treated like royalty and occasionally gets to wear an orange robe. But once the Chosen are overthrown she's back baby attire, this includes things like a pair of little jeans and a hooded jacket made out of shimmery lilac material with red and yellow embroidery on it.
S4
When the Technos fly in and Trudy flees the city Brady is uprooted again and is off to live with the Gaians in the woods. Trudy get's her up in a new outfit, including a lime green coat with red embroidery, some navy blur cords, and red shoes. She's also got proper hair now, wispy bunchies and on each cheek a bright red finger-paint streak of colour.
Once we head back to the eco camp we see Brady has a brand new dark green, moss-like coat just like her mum's with dark purple detailing, and a little green dress with a lilac pattern. She now has the odd red or green feather tied into her hair and not only the Gain swirly green handprint on one cheek, but also an orangey-red abstract sun design on the other.
S5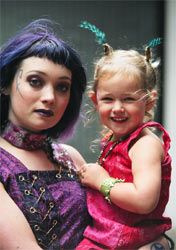 Once back at the mall she gets a red-pink pinafore dress, which in true tribestyle has only one sleeve, made out of mesh. Topped off with a green bead bracelet and little white and lilac sandal-style shoes.
For hair she now has two tiny zulu knots on each side of her head that have an equally small dark green feather sticking out of the top. Makeup is kept simple with the same designs as previously, but now they blend with her outfit even better.